Hadhramout University participated in the 10th undergraduate research competition which was concluded on Thursday 18 May 2023 at Abu Dhabi University.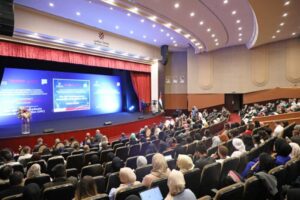 This competition occurred with the participation of 400  research papers under 20 different research groups, submitted by 64 Arab and foreign universities from 14 countries. Students of the fifth and sixth levels from Medicine and Health Sciences Faculty at Hadhramout University participated with three scientific papers. Hadhramout University was the only Yemeni university to participate in this competition.
This event which held with the participation of a selection of international experts within the arbitration committees, is a platform for creative university students to showcase their projects and ideas. The students who represented Hadhramout University in the competition were Khulod Ba-salem, Abeer Ba-hatab, Sarah Al-Kaf, Thurya Al-dahabi, Iman barhoom, Ruqia Al-ghazali, and Khawla Dahdah.
Dr. Lutfi Bin Dahman; General Director of Planning and International Cooperation at the university pointed out that this participation was in line with its interest in encouraging students to attend international and Arab scientific events. He indicated that this competition provides students with an opportunity to benefit from the knowledge and expertise of their peers from other universities, and to create future scientific partnerships. He also expressed his appreciation to the universities leaderships represented by the university president Prof. Muhammad Saeed Khanbash for their support of the university's international participations